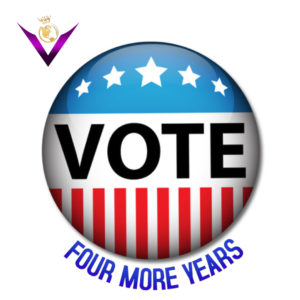 It's election time again. Usually, the common mantra is four more years! This time, however, most people don't want a repeat performance of the past four years.
Whether black, white or brown, e-Fam, we can likely agree that the last four years have culminated into a 2020 that none of us expected. Social unrest. Protesting. Looting. Wild fires. Back-to-back hurricanes, and yes, COVID-19 took us all by surprise. Yet, if we take an honest look back at America's timeline since 2016, the stage was set and ready for the perfect storm.
In 2016, a new President was named after a Russian-tampered and subliminally racist campaign to "Make America Great Again." All this while the nation learned  details of 17-year-old Laquan McDonald's death, at the hand of a white Chicago police officer who fired 16 shots.
In 2017, the President signed an executive order suspending the entry of refugees and citizens of Muslim countries into the U.S. That same year white nationalists, neo-Nazis, and members of the alt-right exchanged insults with counter-protesters in Charlottesville, Virginia, resulting in one woman's death when an irate driver purposely plowed through the crowd.
In 2019, Trump was impeached for illegally soliciting a foreign government to dig up dirt on his political rival, Joe Biden and his son. The impeachment hearings were unsuccessful, and the nation unknowingly was at the brink of the biggest pandemic since the 1918 Spanish Flu.
We've witnessed all of this, plus what multiple reporters have called "disgraceful" presidential debates, and a President who makes a mockery out of a global pandemic that has caused 220,000 American deaths and counting – even after he too was diagnosed with COVID-19. Now, we find ourselves in the thick of another election season.
Some of us may be weary in the whole political process. Others may feel like, what's the use – even when we do our part, the world is still going astray. But e-Fam, if we don't want to see the past four years on rewind we must do our part. Matthew 5:16 says, "Let your light so shine before men, that they may see your good works, and glorify your Father which is in heaven." It also says in James 2:20 that "faith without works is dead."
Work isn't a one-time thing. We don't go to work just one day and expect to be paid for a lifetime. Work requires constant commitment, even when we don't feel like it. In the current case of America, work right now for us as everyday citizens requires three key things.
We each have a Constitutional right to express our views, concerns, and beliefs. Here in America, we do this by choosing elected officials who most closely represent us. We can't be mad at what they do in White House, if we didn't have our say about who's in the White House.
Engage in the judicial process. We have a collective voice, too. Marching and protests have their place. Yet we must not neglect advocating, organizing, and interacting with the government – even the police – to change this system from the inside out.
Encourage social justice. We all have a sphere of influence. Use it. We must connect with our families, friends, neighbors, co-workers, and even strangers to discuss what's happening in our nation and how together we can provoke change.
The year 2020 has been a tipping point, a fork in the road. We have a choice whether to collectively elevate our voices beyond the mere cry of protests in the streets. We have a responsibility to activate our voices by our votes, and influencing others to do the same.
If we don't want to see more of the same for the next four years, we need to really ask ourselves how we want the next four years to look and be willing to do our part to get there.  
Min. Stacy Adams
VKMI eBlogger